Slumbering Dragoncrest Ring. This equippable accessory makes an appearance in every iteration of the Dark Souls series.
The item description states the ring "masks all sound emitting from its wearer".

We present to you an amazingly realistic replica of a ring that many players have gotten accustomed to equipping and have used for hours of gameplay.

It is crafted from Silver 925.
We have paid scrupulous attention to each detail, not only of the engraved everlasting dragon, but also every curve and scratch of the entire ring to reproduce this subtle, yet elegant piece.
The beautifully unique undulation of the band, though hard to see in game, was also shaped into the final product.

Great care was taken to recreate the antique rusted color through a process of controlled smoking, oxidization, and hand painting. This ring, worn by members of a clandestine guild of sorcerers, brings with it the weight that accompanied the secrets born of that time.

We hope you enjoy the chic design that makes this ring an appealing accessory for any situation of your daily life, though it looks as if it were transported directly from the unforgiving world of Dark Souls.

*The rough finishing and scratching are intended to give it an authentic, realistic look.
*All of the products are individually hand made in Japan by professional craftsmen, each item may not be the same and may have slight differences in color and details.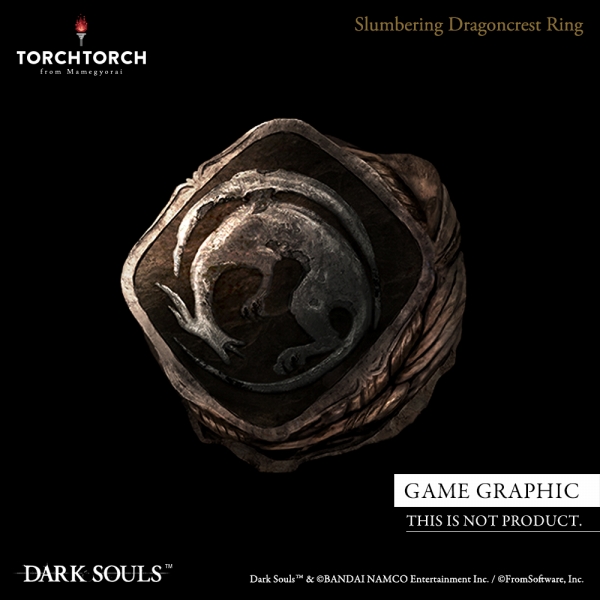 Slumbering Dragoncrest Ring
Ring of a clandestine guild of sorcerers based in Vinheim, home of sorcery.
Masks the sound of its wearer.
The Dragon School held effective sovereignty over Vinheim, with a great many adept assassins at its disposal.