The old hunter Djura is encountered in the burned out remains of "Old Yharnam". By either defeating or reconciling with him players receive the "Powder Keg Hunter Badge", the badge crafted by the "Powder Kegs", the heretics of the workshop.
The "Powder Kegs" motto proclaimed, "If a weapon ain't got kick, it just ain't worth it". TORCH TORCH has created this pendant that emanates with the essence of their slogan and is perfect for daily use as well.

Sculpted by famous artist, Masato Ohata.
Every facet and feature that can be seen in-game is completely reproduced, from the fine details of the small bottle to the wear and tarnish due to aging.
In order to perfectly replicate the colors from the game in this accessory, it took two years of trial and error to painstakingly develop this special alloy that mixes silver, copper, and brass.
The main body alone is a masterpiece consisting of a record breaking six different pieces.
Hold it in your hand and bask in everything it represents.

*This product uses glass to reproduce the graphics in the game. Please be careful not to damage the product due to impacts such as dropping.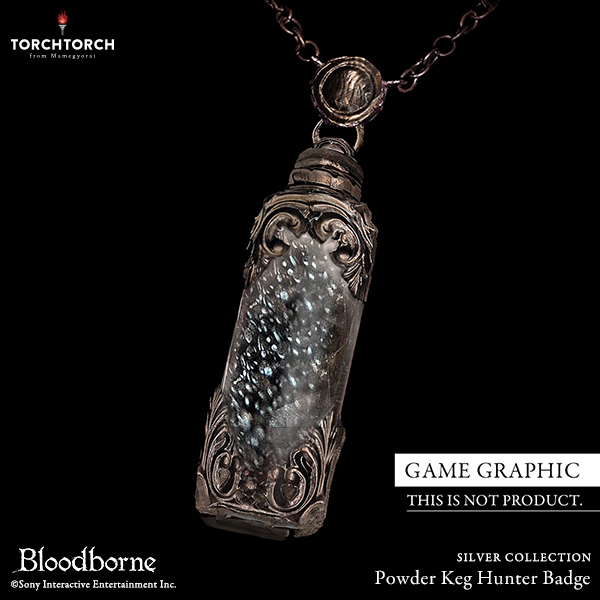 Powder Keg Hunter Badge
Badge crafted by the Powder Kegs, the heretics of the Workshop.
The Powder Kegs adoration of complex design and big booms culminated in weapon designs that contrast with those traditionally of the Workshop.
The late Powder Kegs, bless their souls, had a motto: If a weapon ain't got kick, it just ain't worth it.